Does your company have a stockpile of old mobile phones, phone systems, computers or laptops?
Donate them to Red Communications and we will transfer them into vital funds for the Variety Club Children's Charity!
Help the environment
Raise money for charity
As part of the Variety Club Golf Society, we are committed to raising funds to help purchase Variety Sunshine Coaches for presentation to schools and care centres looking after disabled and disadvantaged children. For more information regarding the Variety Golf Society please visit:  www.varietygolf.org.uk
Remember the smallest of donations can still go a long way to improving young lives.
To donate and recycle your mobile phone:
Remove your SIM card!
Put your old mobile phone into an envelope (phone only, no chargers please)
Put your address on to receive a donation thank you letter
Send it to:
    RED COMMUNICATIONS
    HIGHSTONE HOUSE
    165 HIGH STREET
    BARNET
    EN5 5SU
Thanks to your support Red Communications was able to donate a Sunshine to St. Elizabeth's School from the fund we have raised recycling your old mobile phones.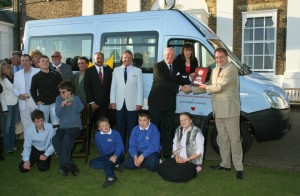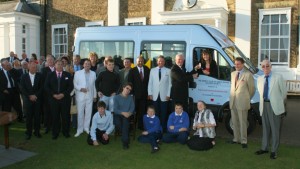 Red Communications Managing Director Nick Green presents a 'Sunshine Coach' to Sir Henry Cooper (chairman), along with Jess Conrad, John Conteh, Robert Powell and Ed 'Stewpot' Stuart.